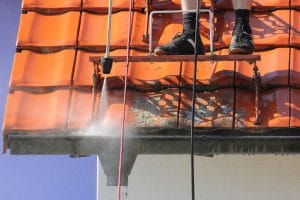 As a company that sells water pressure washers, you know that it's common for clients to come to you and not be sure where to start. They know what they want to do with it, but they don't know if a cold pressure washer is best, or if they need a hot water pressure. Do they need a gas-powered option or one that's electric? You can help them answer those questions and many more – just don't forget that you can also be up selling them on additional accessories that could help them.
Pressure washer nozzles
Show your clients that pressure washer nozzles are just like shower nozzles. They are there to direct your spray to where it needs to go. Some nozzles are for much strong water pressure, while others are more accurate. There are options from quick connect to long-range, from those what work with chemicals and those that work with detergents. You even have multi-function and rotating nozzles.
Show your clients how these pressure washer nozzles are designed to help increase the cleaning power of their machines, while also reducing the cleaning time. By using the right nozzle, they can be more efficient and get the job done better and more easily.
Extension wands
It's one thing to see a spot that needs to be cleaned and it's another thing to be able to reach it. No matter how tall the ladder is, and how great the nozzle is, in some cases you simply need an extension wand. Choose one that's lightweight, made from aluminum, and made in lengths from six to 24 feet. These are great for virtually any use that a client may have for a pressure washer.
The right detergent
Water is very powerful on its own. That said, some cleaning activities require cleaner. You can find eco-friendly options for use indoors, options for use outdoors, and sizes everywhere from a single gallon to 55-gallons. Show your clients that cleaners can help prevent spotting and can make cleaning faster and better. It's a great add-on for a wide range of uses.
Gutter cleaner
Paint this picture for your clients: Imagine if you could stand on the ground and yet get your gutters cleaned? With a gutter cleaning attachment for your pressure washer, it's possible. The right one will be strong enough to handle leaves, branches, dirt, and whatever else has decided to try and take up residence in gutters.
Hose reels
A person doesn't have to have owned a pressure washer to be familiar with getting cords or hoses tangled up. The hose reel pivots 360 degrees to ensure that it's easy to use and that it totally prevents tangling. This is a great option for pressure washers used daily or those that are only used a few times a year.
No matter what use your client has a for a pressure washer from Hydro Tek, there are always options to upsell these products. To learn more about accessories and other options, reach out to us online or via phone at 800-274-9376 .