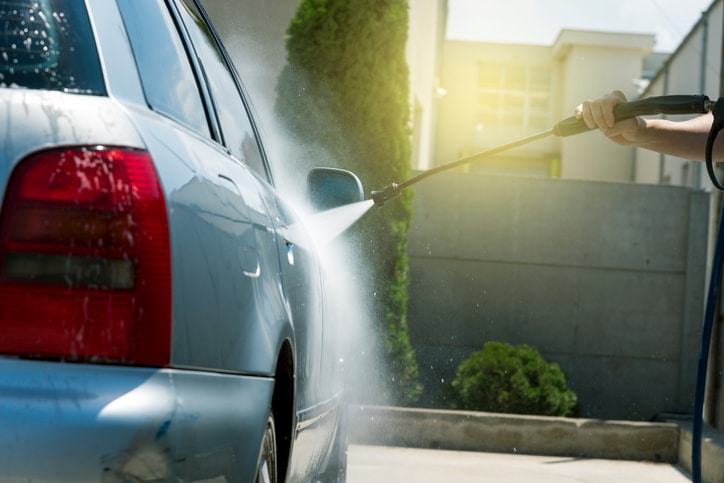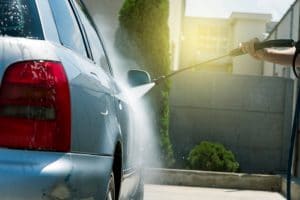 One of the advantages of pressure washers is that they do not necessarily need any type of cleaning agent. Why? Because the pressure is so strong that simple water can clean off the majority of surfaces. However, for a surface with mold, mildew, or another substance that may require a little more than pressure, cleaning agents may be needed.
Once you have come to that conclusion, you must then decide what cleaning agent is best for your pressure washing project. There are three main options: Soap, detergent, and chemicals. Each has pros and cons, which we will cover today. If you have additional questions, or want to find the best hot water pressure washer for your needs, contact Hydro Tek at 800-274-9376 today.
Pressure washer soaps
Soap is the safest of the tree options because it is made from biodegradable or recyclable materials. Common ingredients are fats, sodium, and glycerin. The materials are mixed together in a high steam and the result is soap. Soap is the safest option but also the least powerful, which is why it is often the choice for smaller maintenance jobs.
For example, it may be used to clean the exterior of a home if the only things you are up against are grime and dirt. One of the biggest advantages of soap over the other choices is the fact that it can just be washed down the drain without worry about the environment, thanks to the fact that it's made from natural materials.
Pressure washer detergents
Detergents are similar to soap with one big difference: They are not made from biodegradable materials. Detergents are most often used than the other two options. They are made from chemicals and combining specific synthetic materials. Detergents are most commonly used for hard-to-get-rid-of substances.
They are also great at getting rid of molds and mildews. It is better than soap on gutters too, and any areas that have been damaged by hard water. However, the main disadvantage is that some type of water recycling or water recovery system is required since it cannot simply be washed down the drain.
Pressure washer chemicals
These are the strongest option and are only used for very specific, difficult jobs. These chemicals are so strong that they cannot be introduced through the pump. Instead, they have to be injected via chemical injector. These are used for very difficult jobs such as mold and mildew that has been allowed to grow for years.
If you are ready to buy a pressure washer, or you already have one and do not know what cleaning agents to use, turn to the professional. You can reach Hydro Tek at 800-274-9376 now for help. We offer a full range of hot water pressure washers, cold water pressure washers, trailers, water recovery systems, and much more.