History
Hydro Tek Systems Inc. has been manufacturing high quality cold, hot and steam pressure washers since 1985. We design and engineer our pressure washers and cleaning equipment with high grade, top-quality components increasing reliability and performance producing a system that "Cleans Fast and Outlasts".
Our innovative pressure washers, recycle systems and cleaning equipment is the most reliable on the market and the chosen equipment by industry professionals like Industrial, Commercial and Contract Cleaners, Heavy Construction, Fleet Maintenance, Agricultural and Government agencies.
Hydro Tek Profile & History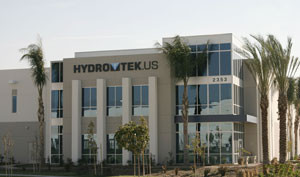 As we look back on three decades of growth and development from our humble beginnings, we appreciate every customer who has participated in our journey to excellence.
In 1985 one man's vision became the symbol of reliability in an emerging pressure washer industry. Driven by a passion for building equipment and innovative thinking, John Koen created Hydro Tek Systems. Focusing to provide the most durable and fastest cleaning pressure washers with an impressive look and style that has never been compromised and which has earned Hydro Tek Systems the reputation as one of the industry's leading manufacturers.
From concept to delivery of our products, every Hydro Tek team member takes pride in ensuring that our customer's expectations are exceeded. Continued emphasis on research and development, increased efficiency through demand flow processing, and cellular-lean manufacturing techniques allows Hydro Tek Systems, Inc. to provide unmatched value in today's competitive global market place.
Our success in the pressure washer industry has led us to the continued expansion of our product offering that now includes Hydro Loop ® wash water recovery and recycling systems to preserve one of our most precious resources…water.
In 2015 Hydro Tek was purchased by Nilfisk. Nilfisk is one of the world's leading manufacturers of professional cleaning equipment. Based on a century of cleaning expertise, we develop and manufacture high quality products that represent the latest technology and innovation and offer the broadest product portfolio in the industry. Nilfisk has sales companies in 45 countries around the world and with an additional strong dealer network, Nilfisk markets and sells its products in more than 100 countries worldwide.