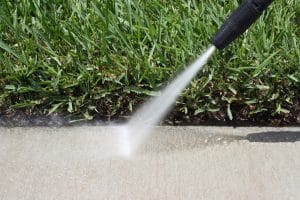 Both your driveway and your sidewalk are high-traffic areas. They get abuse not just from people and cars, but from weather and other elements. As a result, pressure washing is a great way to keep them clean. This is important not just to make them look nice but to keep them safe. Read on to learn all about it and then contact Hydro Tek at 800-274-9376 if you need help selecting the right pressure washer.
Reasons to deep clean your driveway and sidewalk
First of all, you'll find that many people don't realize just how important it can be to deep clean sidewalks and driveways. As time goes on, your driveway and sidewalk can end up slippery and dangerous due to car tire marks that darken and slicken the surface, foot traffic that tracks dirt and causes wear and tear, organic materials from plants that can turn into moss, which is extremely slippery when wet.
The most important steps involved in pressure washing
Though the specific steps you'll follow will depend on your particular driveway and the type of machine you're using, here are the basic steps to follow:
Get rid of large debris. If there are sticks, pine cones, grass, etc. on the driveway or the sidewalk then we encourage you to get rid of it. Depending on what it is, you may need a leaf blower or a broom or shovel could do.
Pre-clean the surface. To pre-clean the surface, use your pressure washer with a 40-degree tip. If you want a faster result and have access to a turbo nozzle, then you can use that just make sure you're staying back an appropriate distance. Remember that these turbo nozzles are very strong and should be used with caution – and only on driveways or sidewalks that are extremely dirty.
Apply a fungicide. This will prevent fungus, mold, and mildew from growing. There are products on the market to do this, but you can also just mix 2/3rds household bleach with 1/3 water. Then add a little dish soap to help it stick to the surface. Make sure to avoid getting any of the mixture on plants or garden beds as it can damage them. Leave the bleach and water solution on your driveway and / or sidewalk for half an hour.
Do a final pressure wash. Once the fungicide has had half an hour to work, get out your hot water pressure washer and do a final wash. When you're done, your sidewalk and / or driveway should look incredible and the results will last for much longer than if you'd simply swept and hosed it down.
Remember that this technique is not just for your sidewalk and driveway. You can also use it on your patio, pool, and anywhere you have concrete. If you're ready to get the equipment you need to get this job done, reach out to Hydro Tek at 800-274-9376 today.