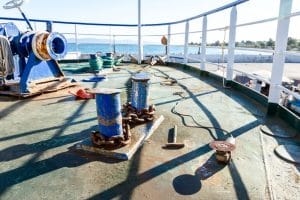 Rust is more than an ugly addition to a surface – it can be a sign that what's under the surface is damaged. At Hydro Tek we offer a wide range of water pressure washing equipment and accessories that can make it easy to remove and prevent rust. Keep reading to learn more about it and then reach out to us at 800-274-9376 if you have questions about rust removal.
There are many places rust can come up and not all of them are great choices for pressure washing
If you have rust on your sidewalk, on the side of a building, or another hard surface then water pressure is likely the fastest, easiest, and most affordable way to remove it. However, we do not recommend pressure washing for softer surfaces. This would include new cement, wood, or vinyl siding. If you use high pressure on any of these surfaces then it's likely to do more than just get rid of the rust – it can cause serious damage.
You may have ingredients in your home right now that will remove rust
You may be surprised to discover how many ingredients you may have in your home that can get rid of rust. For example, a paste made out of water, baking soda, and vinegar can get rid of rust. However, this is just a solution for a small item you may have in your home, such as a tool or a frying pan, but it is not a solution for a building or larger area.
Removing rust from larger projects
If you have something larger than your own personal tools or a frying pan to clean, then we recommend that you get professional cleaning agents. Remember that these agents are for industrial use and can be hazardous if not used correctly. We recommend closely following the directions to ensure that you're safe and that you're keeping the area safe.
Most of the chemicals used to remove rust are made of acid. They basically work by eating away at the rust, but can do a lot of harm to a person's skin or eyes if they come into contact with them. That's why safety gear, including goggles and gloves, is a must. It's also why only those who are confident with these types of jobs should handle them.
We can help you find the right pressure washer for your needs
The good news about working with Hydro Tek is that we have extensive experience in all types of pressure washer projects. Whether you need an industrial washer to remove rust from a building, or you need a pressure washer for cleaning a residential driveway, we can help. While not every job is right for a pressure washer, many are. If you're ready to learn more about the equipment, accessories, and more then give us a call at 800-274-9376 .