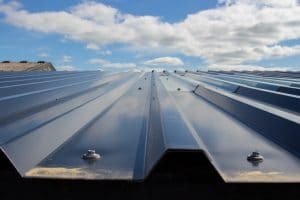 In past months, we have given you advice on how to clean a tile roof and how to clean a shingle roof with a pressure washer. Today we are going to cover how to clean a metal roof with a pressure washer. While some of the steps will be the same, others are unique to a metal roof. If you are in the process of considering your pressure washer options, we highly recommend that you contact Hydro Tek at 800-274-9376 before making a final decision.
Understanding the type of metal roof
Before we explain how to use a pressure washer to clean your metal roof, it is important to know what type of metal roof you have. There are two main options for the purposes of this tutorial. First there is the flat metal roof with a slight slope. This does not necessarily mean it is entirely flat but it is flat enough that it can be walked on. Just be sure that you are using extreme caution because this type of roof can be very slippery.
The second option is the moderate to high pitch metal roof. These are not at all safe to walk on. Instead, you will need accessories that allow you to spray the roof from a ladder. You can get said pressure washer accessories from Hydro Tek and we are happy to help you find the right choice.
You need the right safety equipment
Before you can get on a roof and clean it, you must be sure that you have the appropriate safety equipment. First, you need a hardness and fall safe. These should be used when getting on any roof but are especially important on metal roofs due to how slippery they are. Make sure that the ladder you have has padded stabilizers because metal roofs have coatings to protect them. You do not want to scratch or damage this coating, which is why the padded stabilizers are need.
You need the right equipment
Once you have the safety equipment you need, then it is time to make sure that you have the pressure washing equipment you need. Start off with a hot water pressure with a 40-degree tip. This is very effective at getting rid of algae and mildew, both of which often grow on metal roofs. You only need low pressure on metal roofs, as it is enough to disturb and clean them. We recommend hot water because metal roofs can handle it and hot water is more effective.
Then get a 12 volt or gas-powered detergent sprayer. This makes it easy for you to coat your metal roof with detergent while you are on the ladder. As mentioned above, even if you have a flat metal roof, it is still slippery when wet so the best option is a sprayer that can work from the ladder. If you need help finding the right equipment then we hope you will reach out to Hydro Tek at 800-274-9376 .