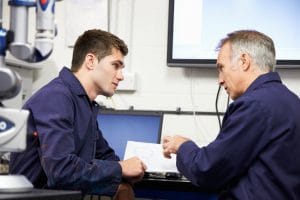 If your company is considering offering pressure washers, then you may assume that extensive training isn't necessary. After all, you know the basics and if the client has questions, they can visit the site of the manufacturer, right? Well, this may result in some sales, but Hydro Tek is here to tell you that training can be more useful than you think. What's more, we offer you training at a number of local distribution locations.
Learn how to operate and maintain pressure washing equipment
First and foremost, training can help you and your employees learn how to operate and maintain a hot pressure or cold water pressure washer. By actually learning how to operate this machinery, you'll be better able to answer questions to the end consumer. By learning how to maintain these units, you can answer questions both at the point of sale and months down the line when they have questions.
It may seem as though you wouldn't want to help customers maintain their pressure washer. After all, the sooner they need to replace it, the sooner you'll be ready to make another sale. However, remember that your bread and butter doesn't come from selling hot water pressure washers. If you can sell a few and make a profit, that's great – but the real value is in encouraging customers to believe in your product and your expertise. Knowing the products you sell inside and out is a great way to achieve this.
Learn all about proper safety protocol
The machines we sell at Hydro Tek are serious. They are extremely powerful – and extremely effective – but their power can make them dangerous in the wrong hands. There are overall regulations on operating these machines safely, and then there are local regulations – and these regulations may differ. By working with a trainer who knows your industry and your locale inside and out, you are assured to know the latest regulations.
Learn how to upsell
Any good salesperson will tell you that a large part of being a successful salesperson is upselling. This means if you work at a restaurant and someone orders a burger, you subtly convince them that they need fries and a drink too.
In the world of pressure washers, upselling means adding in accessories, detergents, and other incidentals that will help your clients get the most out of their pressure washer. If you aren't able to explain exactly how these work – and why they're a great idea for your clients – then it will end up just looking as though you are trying to sell them something. Your goal is to convince them that they need these things, not just to convince them that you want to sell them.
These are just some of the advantages of training with your local pressure washer distributor. If you have questions or need to help finding the right location, feel free to reach out to Hydro Tek at 800-274-9376 .