Description
The Hydro Twister ® industrial flat surface cleaners are the ideal choice for cleaning concrete surfaces without the need for soap pretreatment. A Hydro Twister rotary surface cleaner connects to your pressure washer to allow for more consistent cleaning than an operator with a wand and reduces operator fatigue.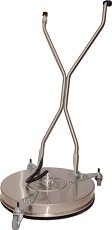 The TRIDENT HYDRO TWISTERS® clean more square footage than others in their class. A proprietary aluminum spray arm with angled nozzles to both clean up to the edge as well as push water aside to create more impact on the surface they clean. All stainless, rustproof deck and handle construction will keep your surface cleaner working and looking great for years.
No Zebra Striping
Aluminum Spray Arm
The ANT21 Hydro Twister Surface Cleaner ® features durable stainless steel construction which will not rust or corrode.
Light weight design decreases operator fatigue
20 Inch Deck
The ANT28 Professional Hydro Twister Surface Cleaner ® cleans up to 15 times faster than a hand wand.
28 Inch Deck
High Cleaning Speed
T
The ANT4C Contractor Hydro Twister ® has the output to tackle big cleaning jobs fast. The Contractor Hydro Twister ® is the proven choice for professional surface cleaning…with four tools for your cleaning needs. The Contractor Twister combines a rotary surface cleaner, spot / gum remover, hydro broom, and an edger to create an all-in-one deluxe surface cleaner.
28 Inch Surface Cleaner
Gum Spot Nozzle
Water Broom
The Hydro Vac is a rotary surface cleaner with wash water recovery capabilities.
24.5″ Cleaning Path
Use With 100′ of Vac Hose With Hydro Vac Products
The Hydro Twister models use both cold and hot water up to 250 degrees offering easy cleanup of a number of surfaces. Hydro Tek Systems manufactures a number of Hydro Twister models, so you will be able to tackle your dirty patios, garages, concrete sidewalks, school yards, factory and warehouse floors, restroom floors, food processing floors, service stations, concrete parking lots, pool decks, sport courts, roofs, loading docks, tile flooring, stadiums, marina docks and cleanup of moss, mold and mildew. Hydro Twisters also get the job done 10- 20 times faster and with less water consumption than a hand wand. The Hydro Twisters use a rotating spray bar that operates 1" off the ground for a thorough clean that eliminates grease and grime much more efficiently than wand methods.
Specifications
| | | | | | |
| --- | --- | --- | --- | --- | --- |
| Model | MAX PSI | MAX GPM | Temp. | Deck  | |
| ANT24 | 5000 | 6 | 210F max | 24″ | |
| ANT25 | 4000 | 6 | 210F max | 24″ | |
| ANT4C | 4000 | 5.5 | 250F max | 28″ | |
| ANTV5 | 4000 | 5.5 | 200F max | 30″ | |
|  ANT28 |  4000 | 5.5 |  250F max |  28″ | |
Video
ANT21 – Stainless Steel Surface Cleaner
ANT28 – 28 inches of cleaning speed
ANT4C – Contractor Hydro Twister
ANTV5 – Vacuum Surface Cleaner
Brochure