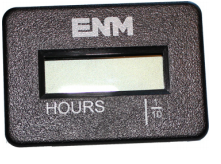 UPDATE: Digital Hour Meter
Digital hour meters are being phased in to replace the mechanical analog type. Watch for these digital hour meters coming soon.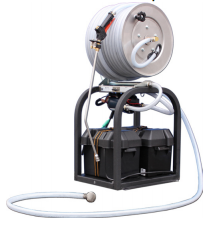 UPDATE: High Reach, Low Flow Sprayer
The AC110 now has an upgraded pump with built-in automatic thermal overload protection on the pump motor. This new pump also increases the specs of this spraying system to 80psi @3gpm with a reduced amp draw of 20.4amps. In addition to the pump change, the AC110 comes with a new, better handling hose.
UPDATE: SC Series
Look for these new SC Series changes with your next receipt of any SC Series gas powered skid. You will find these functional changes as well as a combination of aesthetic and accessibility updates. At first glance you may not really notice anything has changed.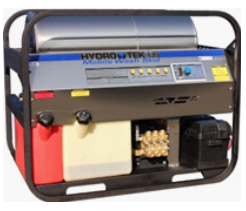 Have a look for these enhanced features which will help you sell, install and provide periodic maintenance on your customer's skid more efficiently Hose reel mounting area  incorporated into the new frame design. The wide cross members on each end of the SC skid are not only structural support; they are the perfect mounting point for a hose reel. There are holes pre-drilled to fit the bolt pattern on Hydro Tek's universal #AR100 or #AR150 hose reel or clamp an #AR425 pivoting hose reel onto the tubular frame 4-point lifting eyes / Tie down brackets to hoist the skid from the top or securely tie down for transportation Extended burner cover offers increased rain and weather protection for the burner and heating system Fuel lines and grommets are mounted at the top of the fuel tank to eliminate the chance of fuel leaking out of the tank if the grommets were to become damaged Hose and wire channel incorporated into the frame design to protect the hoses and wires from damage as well as look organized and tidy.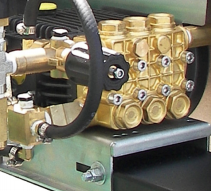 UPDATE - EZ Align Pump
Belt Adjustment SystemBelt drive models in the SS, HD, HN, CPS, and SC Series all have Hydro Tek's EZ Align™ belt tensioning system which allows for easy, single bolt, belt tensioning adjustments. One wrench, one hand...it's all you need! The SC Series is the latest to have this system implemented.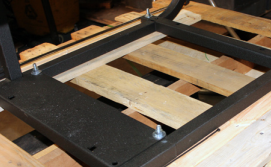 UPDATE - HN Series Easier Ground Mount Installation
We improved the base mounting on all HN Series stationary pressure washers. (Have a look in this photo.) Not only do the frame holes and bolts secure the HN Series during shipping, they were intended to simplify your installations. Use these same holes and tabs to securely bolt your customer's HN machine to the floor in their warehouse.