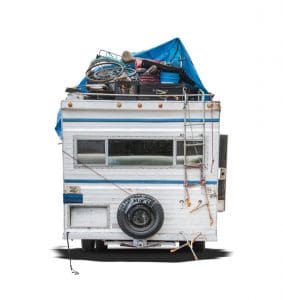 Even in California, RVs and travel trailers are not used much in winter months. When they sit around, gathering dust and debris, they are often in need of detailing. The good news is that a pressure washer can help get RVs and travel trailers clean. For minor cleaning, follow the directions below. For true deep cleaning, invest in a pressure washer and a water recycle system.
Standard cleaning: Everything you need
First of all, just grab any soap you would use to wash a car. You will want to use a high-quality soap that is non-toxic. Then grab a scrub brush. You need something that is firm and will provide plenty of cleaning pressure without risking damaging the paint on the RV or travel. The best way to ensure that the paint is not damaged is to skip the brush and use a pressure washer. Just be sure it is set to the right temperature and pressure.
If you want your travel trailer or RV to look brand new, then you may want to find a soap that has a high gloss finish. You can even add wax or other finishing products to make it look even better. We also recommend polishing the tires and the metal rims. Once they are polished up, they will shine like new and help the travel trailer or RV look brand new.
Finally, you need a garden hose. This will not provide much pressure at all, which means you will need to do quite a bit of work. For those with mobility, who are worried they lack the strength to properly clean the TV, or those who want to save time and hassle, clean the RV or travel trailer with a pressure washer.
The cleaning process for standard or pressure washing cleaning
No matter what type of cleaning you are using, you should start by cleaning off the roof. You may need to walk on the roof if using standard cleaning procedures. Remember that you could potentially damage the roof by doing so, so be sure to walk only on the ribs.
Once the roof is clean, move to the sides and tires. You should make sure to avoid getting water into the fridge access panels, as this can actually destroy the fridge. After you have rinsed your vehicle or travel trailer, it's time to add any high-gloss soap you want.
Putting aside the appropriate amount of time
If you are cleaning with a hose then you can expect this process to take an average of eight hours for a full-sized RV. On the other hand, if you invest in a pressure washer then the entire process can be completed as quickly as an hour. Reach out to Hydro Tek at 800-274-9376 if you are interested in learning more about pressure washers.