Product News
---
The SCX Series skid has extra features, heavy duty components, and is designed for the extreme duty user. With a substantial frame, larger than the SC Series, you will have extra fuel capacity and easy maintenance access.
Key Features:
High efficiency, dependable, 12v PowerLight burners
EZ Align™ pump rails for simple belt adjustments
4 integrated lifting / tie down points
Mounting points for large capacity hose reels
New Product Videos
---
USA made industrial duty Hydro Tek hot water pressure washer has stainless steel frame, panels and coil wrap and comes with a lifetime heating coil warranty along with other industrial duty features: CAT pump, dual wand, hour meter, and auto on/off.
The HN series is a stationary hot water pressure washer that is powered by electricity and heated by your choice of natural gas, propane or diesel. This allows you to install indoors and have hot water on demand in your wash bay at your facility. These models include stainless steel panels, industrial duty motors and pumps and a lifetime heating coil warranty.
HD series pressure washers have stainless steel frames, coil wraps, and panels. It is compact and portable with integrated wheels and handles. Electric powered up to 3000psi and diesel heated to quickly melt away grease and grime. Lifetime warranty on the Hydro Tek manufactured heating coil.
View more at our YouTube Channel: https://www.youtube.com/channel/UCwpTq7dOfH5Qg3aew-RCpew
SC Series Frame and Chassis Updates
---
Look for these new SC Series changes with your next receipt of any SC Series gas powered skid. You will find these functional changes as well as a combination of aesthetic and accessibility updates. At first glance you may not really notice anything has changed. Have a look for these enhanced features which make various tasks for maintenance and installation easier and more convenient. Here are just a couple of the new updates:
4 new hose reel mounting areas to attach a hose reel where it is convenient for you
4-point lifting eyes/tie down points for easy top lifting with a crane or hoist or to securely tie down when in transport
Extended burner offers increased rain and weather protection for the burner and heating system
Captive nuts on the base plate so you don't have to reach under the skid to remove the belt guard and other components
EZ Align™ pump rail system allows for simple belt adjustments with a single bolt
Low Impact High Reach Sprayer
---
The High Reach Sprayer is a soft wash system ideal for cleaning surfaces that are not tolerant to the impact of a high pressure washer. Simply drop the inlet hose into your tank of solution and you are ready to go.
12v DC powered
75psi @ 4gpm
Includes Stainless Steel hose reel and 250' of hose
SS Series Frame and Chassis Improvements
Improved functionality allows for your machine to be more dependable
Improved aesthetics – with sleek styling, improved looks, and ample use of stainless steel the SS series not only is rugged and dependable with industrial duty components, it portrays the professional image that you want to give to convey to your customers.
Easier accessibility to various components so that service, maintenance, and installation becomes easier and takes less time
Functional Improvements:
Thermostat capillary tube is now encased and relocated to ensure accurate temperature readings at all times.
Fuel lines and grommets are mounted at the top of the fuel tank with a dip tube with CARB and emission approved fuel lines. This eliminates the chance of fuel leaking out of the tank if the grommets were to become damaged
Aesthetic Improvements:
Stainless Steel channel for hoses and wires to run through at the rear of the machine keeps them tidy and protected against damage will increase the life of your investment
Hose hooks are no longer integrated into the frame. This was changed due to feedback that they damaged boxes in shipping and created a catch point. The preferred method for hose storage is an AR188 or AR425 hose reel.
Accessibility Improvements:
Large pump oil and engine oil draining access. There are large access holes to get your hand, tools, and small drain pan under the machine to drain either the pump oil or engine oil for periodic maintenance.  (Note: drain valves are no longer needed, engines will come with drain plugs. Optional drain valve kit is available for Vanguard engines.)
Shortened front panel allows for easier access inside the front of the machine.
Increased height and clearance to get under skid and reach mounting holes when installing SS Series on a flat trailer or truck bed allowing for faster installations
New battery box quickly slides in and out for easy battery installation and periodic maintenance. The lid now securely snaps closed so there is no need for the straps.
EZ Align™ pump rail on belt drive models for simple belt adjustments also eliminates the need to reach under the machine with a wrench making any pump jobs go much quicker and smoother
Hot Link Hot Water Generator
Attach to your existing cold water pressure washer and you have the power of Hot Water to quickly melt away grease and grime. The Hot Link System allows you the flexibility of using hot water on those stubborn jobs such as grease, gum, or graffiti that require the impact of hot water to get the job done right. It will save you money by getting the job done faster, and you do not have to buy a new pressure washer if you already have a cold water system. Its compact size allows for easy storage when not in use and takes up less room on your truck or trailer.
Click here for more info: https://www.hydrotek.us/hotlink.htm
Propane Fired Hot Link Hot Water Generator
Portable hot water heater that you can hook to your existing pressure washer is now also available heated by propane. The millivolt system allows you to light with a push button igniter and requires no outside power source.
Click here for more info: https://www.hydrotek.us/hotlink.htm
New Spiralast™ Coil Lifetime Warranty
---
The new Spiralast™ heating coil is made in our state of the art ISO 9001:15 certified manufacturing facility. It allows us to meticulously control both the quality of the material and the process by which it is made. Since beginning production of this new coil in 2012 we have experienced some remarkable improvements. View Product Details
Hydro Tek is now offering a Lifetime Warranty on our new Spiralast™ heating coil. The new Spiralast™ coil is made in our state of the art ISO 9001:15 certified manufacturing facility by using a proprietary cold rolled process. View More
NEW PRODUCTS FOR 2013
---
NEW - GAS POWERED VACUUM SYSTEM
Pick up your wash water over 350' away and automatically transfer to a waste tank, landscaping or sewer with this new gasoline powered vacuum.
FEATURES:
Truck or Trailer mount for portability

425cfm

Use with 2 vacuum recovery tools and over 350' of vac hose

Up to 25 gpm

Large 8 gallon fuel tank, electric start, 50 state EPA approved
NEW - TOW & STOW ™ WASH CART
Shown with SS pressure washer and T185TW tank skid
FEATURES:
Small footprint:  Takes up only 7' x 4' of storage space
Modular design:  choose either the 200 gallon (T185TW) or 270 gallon (T270TW) tank skid and any SS or CPS pressure washer skids
Maneuverable: Pivoting front axle to pull between buildings or on sidewalks
Auto wheel lock: When tongue/hitch is lifted to the upright storage position
Ships fully assembled: Pressure washer and reels installed
Maximum 10mph.  Transporter is intended to be used and stored on site, not for public roads.
Part # TSKDT
Introductory List Price: $2,695
---
NEW HD30004E2G
3000 psi @ 3.9 gpm

Belt Drive General Pump

Dual voltage for use with 230v or 208v 1ph

Includes new EZ Align pump rail system
---
New Water/Flood Recovery & Evacuation System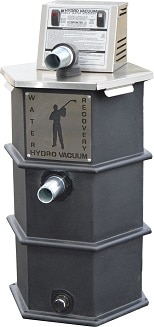 2 models to choose from:
30 gallons per minute,

Model# RPV30E1

, 115v – 15amp or 3500w generator

50 gallons per minute,

Model# RPV50E1

, 115v – 20amp or 5500w generator
---
New Honda Powered Skids available in the SS series.
SS35006HG
3500 psi @ 5.5 gpm
688cc Honda engine
SS40005HH
4000 psi @ 4.8 gpm
688cc Honda Engine
---
NEW HYDRO TWISTERS
Completely new deck design

24.5" cleaning path on new Vac Twister

Contractor is now a 4-in-1 with new edging tool

All twisters now have rear splash guard brush
---
New HN Proline Models
Introducing new models of natural gas heated, electric powered pressure washers in the HN Series with a complete redesign.
Features…
Best in class service accessibility, open design gives you full access to all components
Hoop- frame design, no assembly required
Convenient wand and nozzle storage
New EZ Align™ pump rail for belt tensioning with a simple adjustment bolt
Stainless steel coil wrap and front panels and powder-coated frame
Remote ready. Choose an on/off timer remote option or a full function remote option for complete control from the wash site
Now featuring 3 phase models
Click Here to download the Product Release Brochure for the HN Pressure Washer
Click Here to for specific model information and additional details.
---
PWNA Convention Give-A-Way
If you are attending the PWNA Convention in Nashville, be sure to enter the "Best Rig" contest. If you win and your rig has a Hydro Tek unit on it we'll give you a new Hose Reel or High Reach Wash Pole to go on your rig.
View the flyer for more information
More info about the PWNA Convention
Hydro Tek is also co-sponsoring a give a way of a brand new SC35006KG Skid!
---
ISO 9001:2015 Certification
Hydro Tek Systems, Inc., has earned ISO 9001:2015 certification, a quality management benefit that will help us improve sales and retain workers. Since 1985, we have made high quality cold, hot and steam pressure washers used in the construction, military, industrial and agricultural industries. This certification will allow us to reach an even greater range of customers around the world. See a CMTC Press Release here
---
SCU35005V and SCU 35006KQ Pressure Washer
The SCU Series Pressure Washer has the reserve horsepower and heat rise to get the job done faster. The stainless steel frame and panels ensure that this pressure washer will be around for a long time. Click here for more information on these new pressure washers.
---
Hose Reel - AR151
Stainless Steel at a painted price, this hose reel has a universal mounting foot that will let you mount this hose reel just about any where. Click here for more info on this reel.
---
High Reach Wash Pole - AVW20
Need to wash something that is out of reach? This 20 foot extension wand will let you reach new heights safely and efficiently. It accepts the Suttner ST1500 and Hydro Tek VG200 guns.  Click here for more info on this great time saver.
---
Convertible Hydro Twister - ANT1N
This new twist on an old favorite gives you THREE twisters in One. A regular flat surface cleaner, a floater and now a Under Carriage Cleaner for cleaning the underside of trucks and other vehicles.Click here for more info!
---
SS30003VH
New mobile wash skid add to the Hydro Tek line. The SS30003VH is a mobile wash skid that uses a 12 volt charging system on the engine to power the burner system. This unit delivers 3000 psi at 3 gpm. Click here for the full press release on this pressure washer.
---
Portable Wastewater Recovery System
Our new Puddle Vac system can capture and transfer up to 2000 gallons per minute. The RPT5E1 can help you in compliance with governmental regulations for water runoff. This system can collect and transfer your wash water while protecting the environment. Please click here for more info about this new Wastewater Recovery System.
---
New SS Series pressure washer introduced
Hydro Tek has just introduced a new member of its SS Series. The SS40004VH is a power washer with 4000psi at 4 gallons per minute. This pressure washer has an AR Triplex pump that is powered by a 16 hp Vanguard engine and can heat water up to 250 degrees Fahrenheit .Click here to see the Tek Sheet with all the pressure washer details.
---
Bill Loenhorst - Operations Manager Publishes an article in Cleaner Times
Hydro Tek's very own Operations Manager, Bill Loenhorst, recently had an article about pressure washer maintenance and safety published the Cleaner Time trade magazine. Please click here to read the article.