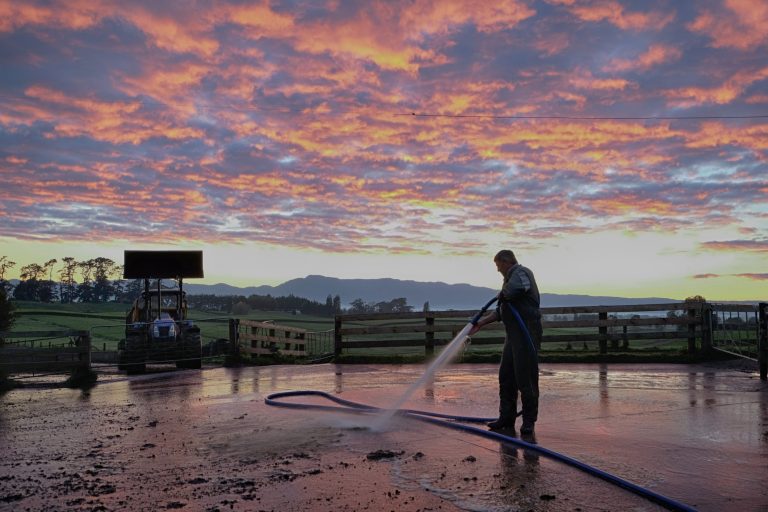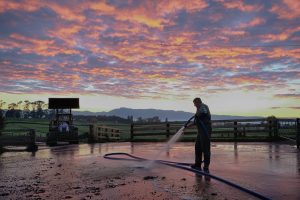 There is no question that dairy farm cleaning can be a challenge. With various government and local regulations you must always be sure to be in compliance with, coupled with your own personal high standards, it can be hard to get every inch as clean as it should be – that is unless you have a high quality pressure washer to handle the job for you. Keep reading to learn the ins and outs of cleaning a dairy farm with a pressure washer, then contact Hydro Tek to fulfill all your pressure washer and pressure washer accessory needs.
Today's Dairy Equipment is Built to Be Washed
The good news about using pressure washing equipment on a dairy farm is that today's dairies are specifically built to be washed down. Every dairy owner is fastidious about keeping their dairy sanitary and ensuring that their milking parlor and all milking equipment is as clean and safe as possible. Doing so becomes easier when the farm is built specifically for ease of washing – and when the right equipment is available.
The Best Way to Clean Dairy Farm Equipment with Pressure Washing Equipment
The first step is to sweep up waste into either a pit or collection point. Do this by using medium or high pressure. In most cases, cold water will work for this part of the process. You will then want to use hot water to clean your walls (we recommend at least 180F). Apply detergent from the bottom up and apply chemicals to as large of an area as you can clean without allowing said chemicals to dry. Keep the walls near where you we working wet – this will help prevent slash from sticking.
You'll want to wash anything that's above the floor, such as machinery, rails, and pipes. If you have a traditional milking parlor setup with a deck or you have a milking pit layout, wash smaller sections of the deck toward your walls. At the same time, clean toward the collection pit. The final step should be to wash the milking pit's vertical surfaces and then the floors. You may need to do a second wash if there has been a lot of splash created.
The Best Techniques for Dairy Farm Cleaning
One of the biggest challenges is getting rid of scum buildup if you are milking 24 hours per day. We recommend hot water, chemicals approved by the USDA, and controlled pressure. High volume and low pressure can provide you with the results you want.
If you need assistance finding the best products for your dairy operation then we welcome your call to Hydro Tek at 800-274-9376 . We are standing by to provide you with the help you need to properly clean and sanitize your dairy equipment.