Agriculture Industry Cleaning Solutions in Lincoln NE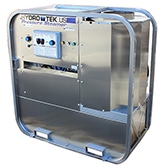 HN Series Stationary, Electric Powered, Natural Gas, LP or Diesel Heated
Click Here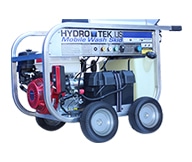 SM Series Compact, Portable, Gas Powered, Diesel Heated
Click Here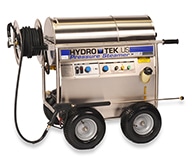 HD Series Compact, Portable, Electric Powered, Diesel Heated
Click Here
You Have Found the Best Pressure Washers for the Agriculture Industry in Lincoln NE
Are there are other companies out there offering pressure washers for the agriculture industry in Lincoln NE? There certainly are – but none can truly complete with Hydro Tek. Our products are specially designed to clean stables, sites, and the animals themselves. Keep reading to find out what makes us truly different from the competitors and then contact us at 800-274-9376 with questions.
Our Stainless Steel Materials Are Corrosion and Rust Resistant
Of all the reasons to choose to work with Hydro Tek when you need pressure washers for the agriculture industry in Lincoln NE, one of the top examples if the fact that, unlike our competitors, we use stainless steel materials that are corrosion-resistant and rust resistant. This assures that your pressure washer will last longer and require fewer repairs.
While this is always an advantage, it is especially so in agricultural spaces that require the use of harsh chemicals. These chemicals will not break down or damage our products. The same can not be guaranteed by our competitors.
Agriculture Cleaning Equipment
When you work with Hydro Tek you are working with a company that understands the unique needs of your industry. In fact, we have created solutions for your specific needs. We know you need products that can handle heavy, serious work such as cleaning out stables to rid them of mud, feathers, animal waste, and other materials.
We also know you need pressure washers for the agriculture industry in Lincoln NE for light tasks, such as clearing out bovine and ovine segments. We have you covered there. From small fur animal boxes to fishing equipment – and even animals themselves – our machines are as strong or as gentle as you need.
Our Agricultural Cleaning Equipment Comes with Lifetime Coil Warranty
Do you need more evidence that Hydro Tek is the right company to choose from pressure washers for the agricultural industry in Lincoln NE? Consider that our agricultural cleaning equipment comes with a lifetime coil warranty. This not only means you are protected if something goes wrong but it provides evidence that we stand behind our products.
Are You Ready to Hear More About Pressure Washers for the Agriculture Industry in Lincoln NE
At Hydro Tek we know how important it is that your livestock and diary cleaning needs are met. We know that it is essential that your cleanliness and hygiene are second to none – and have provided a series of power washers that can aid in doing just that. Use our products for deep cleaning your poultry operation to get rid of viruses, bacteria, vermin, and other hazardous things that could affect your business.
Contact Hydro Tek at 800-274-9376 to find out how we can help you with the best pressure washers for the agriculture industry in Lincoln NE.