The heavy-duty, hot water SS Series mobile wash skid has been the proven choice of professionals for many years because of its low maintenance requirements and reliability. Available pressure ranges from 3000 to 4000psi, flow from 3 to 5.5gpm, matched with industrial gas or diesel engines for maximum duty.  Simple controls, electric start engine and added safety features make this pressure washer easy to operate.
The SS Series has rust proof stainless steel panels for protection in the harshest environments and a rugged powder coated Pro-Tect-It frame for overhead lifting or mounting in a pick-up, van, on wheels, or on a trailer.  The Hydro Tek SS Series is ideal for city and stadium maintenance, graffiti removal, heavy equipment cleaning, and professional cleaning at remote sites.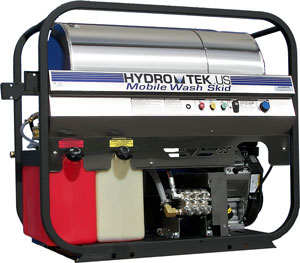 For product or dealer information, call (800) 274-9376 or visit our Pressure Washer SS Series page.