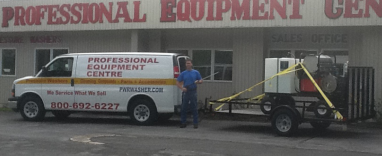 Professional Equipment Centre has been selling and servicing pressure washers in the
geographic center of Pennsylvania, near State College, PA since it opened in 1973. A family business, Steve and son, Jon, Dershimer have been distributors of Hydro Tek equipment since 1991. They are proud that the first unit sold, a 230V 4@2000 is still working well! (It's recognizable, but sure looks a lot different than the current offerings). In 1973, the energy industry locally in the form of coal strip mines needed pressure washers desperately, even though they didn't yet know that pressure washers existed. Selling machines required demonstrating on site under often primitive and difficult conditions. Also, after the sale, having the knowledge and parts to quickly repair the frequently abused and overstressed equipment, usually on site. Now, four decades on, the energy industry in the form of Natural Gas Drillers has significant needs as well, and the cycle continues.

With 1.5 acres of commercial land, 7000 sq. ft. of storage was added in 2002 and is a great supplement to income. Service is the foundation of their continuing success. Jon is meticulous in his attention to detail and his customers appreciate it. One day a customer asked Steve if Steve knew why he always brought his equipment to Professional Equipment for repair or maintenance. Steve replied, "I guess you're satisfied with our service." "True," answered the customer, "and I believe if you don't know your meat…know your butcher."
That attention to detail has lead to some interesting hobbies for the family. Steve's been a licensed pilot for 39 years, and has flown with his wife, Sherry, into Redlands to visit the factory. Jon and Steve have exercised their mechanical and competitive natures in building and competing in automotive and motorcycle racing.
Jon currently is in first place in three classes regionally in motorcycle road-racing with his Suzuki GSX-R 1000, and is anticipating being invited to the Grand National Finals in October at Barber Motorsport Park, near Birmingham, AL. With 200 MPH capability, attention to the small details is paramount, and lessons learned, working on equipment, are translated into working on the hobbies to maintain both performance and safety.The hobbies have also led to their becoming a licensed automobile dealer. Dealing primarily in interesting collector and performance cars, trucks and motorcycles; it is a niche market.
The Dershimers choose to represent only the top quality products in the industry. Relying heavily on repeat business and referrals; customer satisfaction is the key. Quality leaves a good lasting impression. "Hydro Tek pressure washers, and chemicals from Vector Laboratories, have satisfied our customers' needs for well over twenty years."