Pressure Washers for the Farm Industry in Omaha NE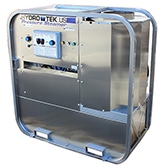 HN Series Stationary, Electric Powered, Natural Gas, LP or Diesel Heated
Click Here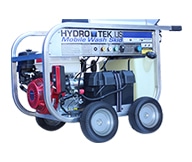 SM Series Compact, Portable, Gas Powered, Diesel Heated
Click Here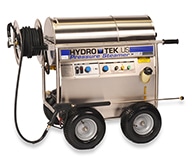 HD Series Compact, Portable, Electric Powered, Diesel Heated
Click Here
You Have Found the Best Pressure Washers for the Farm Industry in Omaha NE
Are there are other companies out there offering pressure washers for the agricultural industry in Omaha NE? There certainly are – but none can truly complete with Hydro Tek. Our products are specially designed to clean stables, sites, and the animals themselves. Keep reading to find out what makes us truly different from the competitors and then contact us at 800-274-9376 with questions.
We Use Stainless Steel Materials That Are Resistant to Corrosion
There are a number of things you're going to want to look for as you shop for pressure washers for the farm industry in Omaha NE – and our competition cannot necessarily provide them. For example, our products are made from stainless steel that is corrosion resistant to prevent rust. This helps your pressure washer last longer and be less likely to require repairs.
No one wants to deal with rust but it can be an even bigger issue if you are dealing with the harsh chemicals that are often required in this field. Other companies do not have the same high-quality stainless steel and often need to be replaced after just a few years.
Our Pressure Washers for the Farm Industry in Omaha NE Can Help with It All
The good news about working with Hydro Tek is that we truly understand your needs. We build pressure washers specifically for those needs. We design our products for serious, heavy-duty work that includes cleaning out stables to remove animal waste, mud, feathers, and much more. Our products can also be adjusted to handle less-robust tasks like clearing out ovine and bovine segments.
Our clients use our pressure washers to clean out small fur animal boxes, fishing equipment, farming equipment, dairy milking equipment, and even their animals themselves. We provide machines that are strong enough for the hard work but can be adjusted for gentler needs.
How Long Can You Count on Our Coil? For Life
That's right – we offer a lifetime warranty on the coil that comes with our pressure washers for the farm industry in Omaha NE. This shows you just how serious we are about providing quality work and the best results. We stand behind our products because we know they are built to last – our warranty proves it.
Your Livestock and Dairy Needs Are Covered with our Pressure Washers for the Farm Industry
No matter what your livestock and dairy need cleaning needs are, we know that you need products that can maximize cleanliness and promote hygiene. Our products are essential tools in meeting that goal. Deep cleaning poultry operations gets rid of bacteria, viruses, and vermin that could otherwise ruin an operation. Excrement from cattle, horses, goats, and sheep is no match for our products.
To find out more about pressure washers for the farm industry in Omaha NE, Contact Hydro Tek at 800-274-9376 .